Nervous writing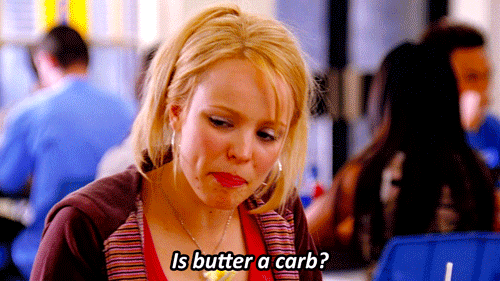 I'm sure I've posted this meme before because 1.) It's applicable to how I eat before every big race and 2.)
Mean Girls
is applicable to every facet of life in general.
Examples:
When I'm on my period:
When I'm wondering how much cake I can consume in one sitting:
Telling a story:
A regular Tuesday:
Hanging out with the interns at work:
See?
Life.
Anyway, this week has been somewhat of a personal struggle. I had my whole shoe issue early in the week, and right about the same time I started to come down with some kind of sickness that I couldn't decide was a cold or allergies. As symptoms progressed, Clay and I determined it was likely allergies and it took about 3 days to get to feeing better. This morning was the first day my head wasn't throbbing and even though I have a sore throat now (likely from nasal drip. Sexy, I know), I feel much more like myself. For the record? Mucinex is no joke. I thought my head was going to float away and I had to stop taking it lest everyone think I was high as a kite.
I took tons of vitamins, relaxed in epson salt baths to relieve pain, got 8+ hours of sleep most nights, drank plenty of water and of course, panicked. I feel bad for Clayton because I know I was hard to deal with. I bounced between fear, frustration and tears for most of the week. I think I was one mental breakdown away from being doused in Holy water.
The Indy Mini will be my 9th half marathon and I haven't run this specific race since 2012. I had a terrible experience the last time I did this race, so I've been avoiding it. But last year I got to the place where I decided it was time to face my fear and try it again so I could say I was victorious at the 500 Festival Mini. I just want to do well. I want to PR. I hope that happens. I just don't know. I have lingering fear that I'll feel bad again in the morning. My previous bad experience is psyching me out. My mind is a jumble right now. I put in the miles and the hours and did all I could to prepare. The rest is in God's hands now.
Pictured on the left is the 2011 Indy Mini, my first year running this race. I had an awesome time and was still so new to running, I was just happy to be there (before my competitive nature killed my soul). On the right is the 2012 Indy Mini and you can clearly see that I was hating life.
I'm really hoping this will be my face as I cross the 2015 Indy Mini finish line:
That face is happy, right? Now that I've been staring at it for 5 minutes, I can't tell.
Wish me luck!
♥C