That's What She Said
I'm a bad blogger when I'm not feeling well. I can't shake this cold-esque affliction, and yesterday I was far more content to go to the library and stock up on books to read under a blanket rather than write or do anything semi-productive.
Well, I was kind of productive last night; I taught myself the alphabet in sign language.
That's what happens when I'm alone in the library: I embark on intellectual journeys I don't really have the time or energy for, like deciding to teach myself sign language.
I was feeling under the weather for most of the weekend, so Clay and I pretty much stayed in and caught up on TV shows. On Friday night we watched the last 10 episodes of the final season of
The Office
and lemme just say, that's how
all
TV shows should end. I got good closure from all of the characters and everyone ended in a good place. I sobbed like a baby through the last three episodes (Dwight and Angela? I can't take it .... I just can't.) and when my beloved Michael Scott popped up in the final episode, I shrieked at such an ear-piercing decibel, Joey fled the room in terror.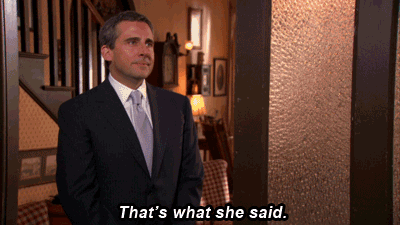 I love Michael Scott like some people love Harry Potter. I wish he was a real person.
When the show ended, I had mascara smeared up to my forehead and my face buried in a pillow. "That was
SO NICE
," I kept muttering to no one.
See? That's how I should have felt after watching the series finale of
Dexter
. But I didn't.
Dexter
just made me want to slit my wrists and look into medical law to see how easy it really is take your sister off life support and smuggle her out of a hospital undetected.
I pulled myself together enough to attempt my 18 mile run on Saturday morning and guess what? It was raining. Again.
I never noticed how rainy October is until recently. Has it always been like this?
Anyway, I think having a cold was just the ticket because it forced me to drink a LOT of liquid, so I was extra hydrated for my run. Plus, feeling sluggish kept my pace even and slow and I basically soared through all 18 of those miles. My pace started around the low 10:00 min/mile mark with two 11:00 minute miles in the middle, but then I finished with 6 strong miles at a 9:25 pace. I was quite pleased.
A gentleman even stopped me on the trail to compliment my form. (Don't worry, I didn't pause my Garmin and actually stop. I just kind of jogged sideways like a crab while we chatted.) He asked, "Are you training for a marathon?" When I confirmed, he replied, "I thought so. You look like you're doing it right. Great form, good pace. You're gonna do awesome." Why thank you, kind stranger! I seriously smiled non-stop for the next 2 miles.
Then I went home and my body completely shut down. I laid on the couch all afternoon and evening, coddling my sore legs and stuffy nose. I'm glad I was able to get through the run, but I sure paid the price for it for the rest of the day.
Then Clayton brought me McDonald's chicken nuggets and life turned out pretty okay.
Sunday morning we were going to drop by my mom and sister's campsite to say hello and have some breakfast (they have a favorite camping spot just south of where we live), but the weekend's constant rain turned their campsite in to a mud pit. My mom didn't want me sitting outside in the rain while fighting a cold, so we all agreed to catch up in a few weeks for joint birthday celebration.
As much as I wanted to go back to bed after deciding we weren't gonna see my mom, Clay and I were already awake and driving, so we stopped at the grocery story and picked up fixings for breakfast burritos. We scrambled up some eggs, browned some sausage, fried some hash browns, and stuffed all of it into soft tortilla shells with cheese and salsa. It was ridiculous and delicious.
After screaming for his dad for several minutes, we popped
Cars 2
into the DVD player and he passed out on the couch.
That's all I got for today. Clay and I are taking a cooking class tonight through the culinary school for a fun little date night. The two things Clayton and I bond over most is humor and food. I know this because while we were eating our breakfast burritos on Sunday, Clayton told me he loved me.
I love burritos, too, dear. I love them, too.